NVIDIA CodeWorks for Android
CodeWorks for all Android Developers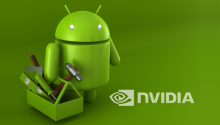 NVIDIA CodeWorks for Android provides a full suite of development tools that support all Android devices. In addition, it unleashes the full potential of NVIDIA Tegra mobile processors with a comprehensive set of advanced debugging and profiling tools for CPU and GPU intensive applications. If you want to be on the bleeding edge of Android development, use the NVIDIA SHIELD family of devices to target gamers who yearn to play whenever, wherever, and however they want.
Available Documentation
---
In an effort to expand our all-in-one developer kits to additional platforms in the near future, we are introducing NVIDIA CodeWorks for Android. NVIDIA CodeWorks for Android replaces both AndroidWorks and Tegra Android Development Pack.
Previous versions of CodeWorks for Android are available as AndroidWorks and Tegra Android Development Pack.
Tegra Android Development Pack (TADP)

 
---

NVIDIA® GameWorks™ Documentation Rev. 1.0.211026 ©2014-2021. NVIDIA Corporation and affiliates. All Rights Reserved.