Menu and Toolbar
---
The Nsight Tegra functionality can be accessed through the Tegra menu.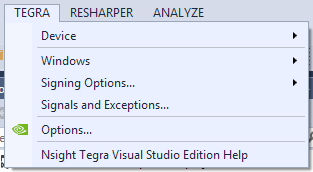 Device Submenu

Select — Allows to select the device from the list of attached devices. Currently selected device is marked by a tick.
Device Information — Opens a dialog that displays information for the selected device.

The dialog displays properties found in the /system/build.prop file. The dialog also displays a name for the device along with the serial number. Nsight Tegra generated a name by default based on some of the properties from this list, but you can change this to help you better identify the device.

Reboot Device — Prompts to reboot the selected device.
Windows Submenu

GDB Console — Shows a GDB/MI console, which can be used to send arbitrary MI commands to the GDB during the debugging session.

This feature should be used with care, as Nsight Tegra does not control which commands are issued, and it is possible to corrupt the debugging state as perceived by Visual Studio. In such a case, restart the debug session to reset the state.

Android Log (logcat) — Shows an Android Log pane to display log messages from the currently selected device (see Device Logging).
NVIDIA Tegra Device Toolbar
Android devices can be controlled using the NVIDIA Tegra Device Toolbar. The toolbar is displayed automatically after the extension is installed.

All connected Android devices and emulators are displayed in the drop-down menu. The first available device will be selected by default. The toolbar will remember the device selected in a previous session.
If no devices are available, <No Device> will be displayed. Device selection is disabled when debugging.
The Device toolbar lets you select the Android device for the following:
Launching
Logging
Deployment of an application
---

NVIDIA® GameWorks™ Documentation Rev. 1.0.211026 ©2014-2021. NVIDIA Corporation and affiliates. All Rights Reserved.