Destruction Introduction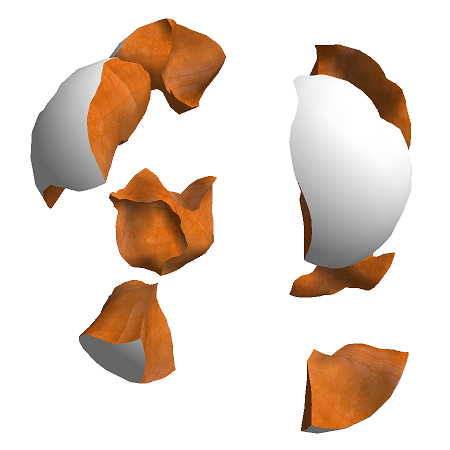 The Apex Destruction module deals primarily with three kinds of objects:
Destructible assets (class DestructibleAsset), which are destructible template objects that may be generated using tools such as PhysXLab (see the PhysXLab documentation), FractureTool, or in your own application using the fracturing API in DestructibleAssetAuthoring,
Destructible actors (class DestructibleActor), which are instances of DestructibleAssets, and
Destructible actor joints (class DestructibleActorJoint), which are special wrappers for PhysX joints which may be used to join an DestructibleActor to another DestructibleActor, a PhysX actor, or to the static global reference frame.
After loading an DestructibleAsset, you may use it to instance DestructibleActors. The DestructibleAsset carries with it a template of fracture parameters, the DestructibleParameter structure. These parameters are used by default with an DestructibleActor instance, and you may customize these parameters per-instance. These parameters allow you to specify how much damage it takes to fracture a chunk, whether chunks take damage via impact, whether or not they can deform before breaking, and more.
DestructibleActors may start off life static or dynamic. If static, you may define certain pieces (chunks) to be "support" pieces in various ways. This emulates being "held" by the environment. For example, a destructible wall fixture might have support chunks where it touches the wall. When you break off pieces of the fixture, as long as there is a connected path from a given chunk to a support chunk, then it will remain fixed. Otherwise, the disconnected chunks will break free and become dynamic. A powerful feature of this module is "inter-actor support." This means that if a static destructible with support touches another static destructible, the support may be extend across the destructibles. In this way you may effectively build large destructible structures out of smaller destructible "building blocks."
(Note: "static" destructible actors actually create kinematic PhysX actors, instead of truly static PhysX actors. In this way the actors may be easily made dynamic when a fracture event knocks chunks loose.)
The DestructibleActor comes with a damage API, allowing the application to apply damage directly or through impacts (collisions). Scene query functions are also supplied (ray casts and obb sweeps).
The DestructibleActorJoints are intended to act just as you'd expect a PhysX joint to act, when attached to a PhysX actor. They hide the fact that the PhysX actors which compose an DestructibleActor may be changing "under the hood" while fracturing is occuring.
A callback mechanism is provided which notifies the user when chunks are fractured or destroyed, so that sound and graphical effects may be played.
An APEX particle system (see the documentation for the particle system module) may be used by the DestructibleActor to emulate debris when the smallest chunks are broken.
Finally, LOD parameters are supplied to scale the physics computation for a given scene. These parameters are:
Smallest chunk size
Maximum number of dynamic chunk islands
Maximum number of chunks
Lifetime and maximum distance from place of origin that chunks may exist
Chunk benefit weights: per-chunk, lifetime, and screen area
Through the various parameters and interfaces described above, the destruction module provides a rich variety of physical behaviors to enhance game play experience.