Screen Capture API
The following diagram shows the place of the Screen Capture API in the NVIDIA DRIVE™ SDK architecture.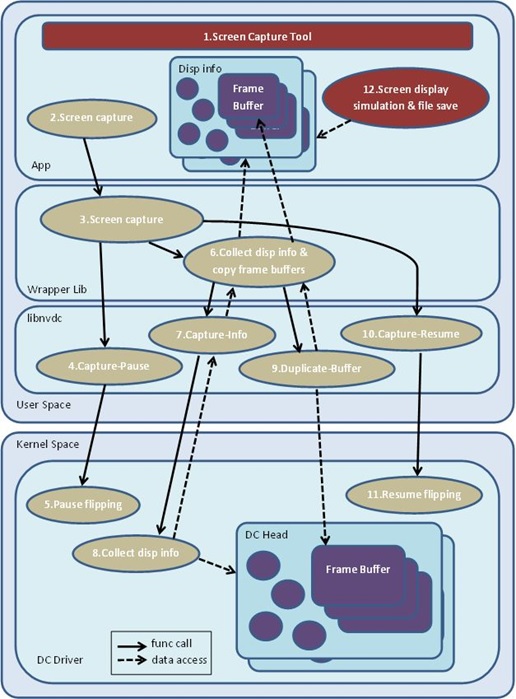 The relevant layers of the system, from the top down, are:
•
A user screen capture tool or sample application
•
The screen capture wrapper library, nvscrncapt
•
The Display Controller API, libnvdc
Logical Flow in a Screen Capture Operation
The logical flow of the screen capture process has the following steps:
1.
Pause display flip if a display flip operation is in progress.
2.
For each requested head and for each window assigned to this head:
•
Collect the display head configuration information.
•
Initiate the screen capture process by calling the Screen Capture API
NvScrncaptInit()
function.
•
Capture the screen image from the frame buffer for the latest flip currently on display by calling the
NvScrncaptCapture()
function. This function may use a screen capture buffer provided by the application, or shall allocate its own if the application delegates that task to the API.
•
Process the captured data, for an example, saving it to a file.
•
Conclude the screen capture process by calling the
NvScrncaptCleanup()
function.
Note:

The display pause in Step

1

is subject to a timer that may resume the display after a predefined amount of time to prevent the system display lock-up.

For more information, see

Screen Capture

in

API Modules

.