What is DRIVE AGX? What is DRIVE Software? Common terminology explained here.
Scalable AI Platform for Autonomous Driving
Autonomous vehicles will transform the way we live, work, and play, creating safer and more efficient roads. To realize these revolutionary benefits, the car of the future will require a massive amount of computational horsepower. Tapping into decades-long experience in AI, NVIDIA DRIVE™ hardware and software solutions deliver industry-leading performance to help automakers, truck makers, tier 1 suppliers, and startups make autonomous driving a reality.
NVIDIA DRIVE™ platforms include an in-vehicle computer (DRIVE AGX) and complete reference architecture (DRIVE Hyperion™), as well as data center-hosted simulation (DRIVE Constellation™) and deep neural network (DNN) training platforms (DGX™). These platforms also include rich software developer kits (SDKs) to accelerate autonomous vehicle (AV) development.
To learn more about the NVIDIA DRIVE platform, see:
The NVIDIA DRIVE™ AGX Developer Kit provides the hardware, software, and sample applications needed for development of production level autonomous vehicles (AV). NVIDIA DRIVE AGX Developer Kit is suitable for any autonomous vehicle ecosystem developer requiring an autograde AI computing platform that meets safety standards (such as ISO 26262/ASIL-D, ISO/PAS 21448), is compliant with key regulatory requirements (such as NHTSA, Euro NCAP), has an open software framework and a large ecosystem of automotive partners (including auto grade sensor vendors, automotive Tier 1 suppliers) to choose from.
The development environment for DRIVE AGX requires a host development PC (not included with the DRIVE AGX Developer Kit). The image below illustrates the development workflow. All the tools illustrated below are installed on the host PC through NVIDIA SDK Manager.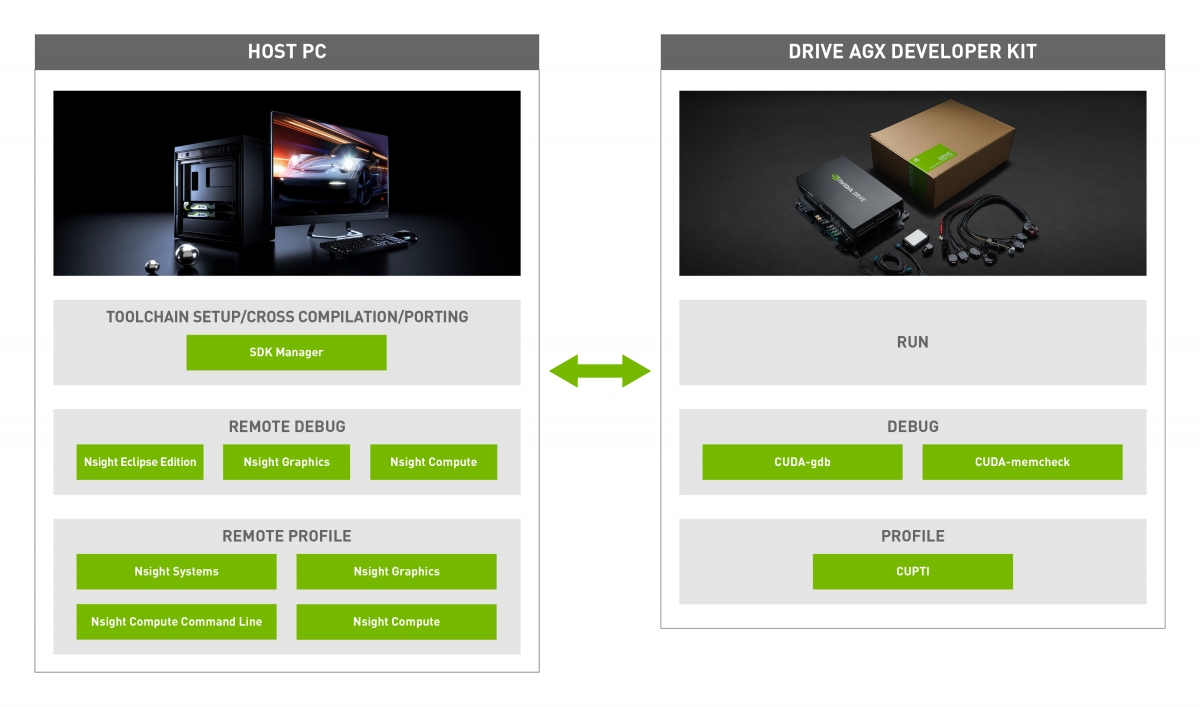 To learn more about the DRIVE AGX Developer Kit, see:
https://www.nvidia.com/en-us/self-driving-cars/drive-platform/hardware/
NVIDIA SDK Manager provides an end-to-end development environment setup solution for NVIDIA's DRIVE and Jetson SDKs for both host machine and target devices.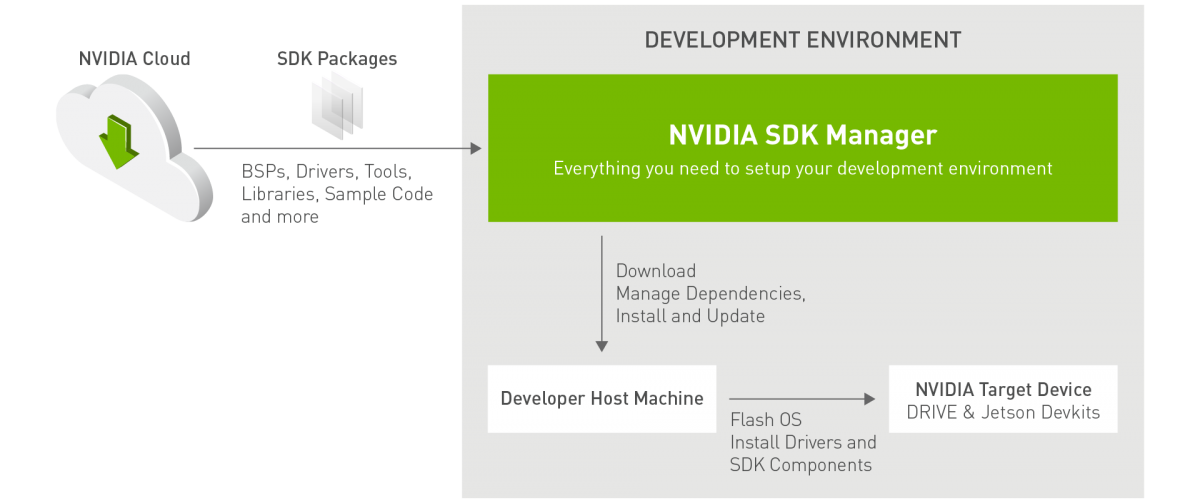 To learn more about NVIDIA SDK Manager, see:
Related Topics in This Guide
NVIDIA DRIVE™ OS is the reference operating system and associated software stack designed specifically for developing and deploying autonomous applications on DRIVE AGX-based hardware. NVIDIA DRIVE OS delivers a safe and secure execution environment for safety-critical applications, providing services such as secure boot, security services, firewall, and over-the-air updates. The included foundational software stack consists of a Type-1 Hypervisor, NVIDIA® CUDA® libraries, NVIDIA TensorRT™, NvMedia, and other components optimized to provide direct access to DRIVE AGX hardware acceleration engines.
DRIVE OS SDK
NVIDIA DRIVE™ OS Software Development Kit (SDK) is used to develop DRIVE OS applications for deployment on NVIDIA DRIVE AGX™ based hardware platforms.
NVIDIA DRIVE™ OS SDK consists of all required software, libraries, and tools to build, debug, profile, and deploy applications for autonomous vehicles and self-driving cars across the CPU, GPU and other DRIVE AGX hardware acceleration engines. These development tools provide optimized workflows for parallel computing and deep learning development.
In order to maximize productivity, NVIDIA DRIVE OS SDK leverages industry standard tools, technologies, and APIs to provide a familiar and comfortable high-productivity development environment.
DRIVE OS PDK
NVIDIA DRIVE™ OS Platform Development Kit (PDK) is used to modify NVIDIA DRIVE OS to run on non-reference DRIVE AGX-based hardware platforms.
Consult your NVIDIA Customer Support Engineer for more information.
Related Topics in This Guide
Notice
THE INFORMATION IN THIS GUIDE AND ALL OTHER INFORMATION CONTAINED IN NVIDIA DOCUMENTATION REFERENCED IN THIS GUIDE IS PROVIDED "AS IS." NVIDIA MAKES NO WARRANTIES, EXPRESSED, IMPLIED, STATUTORY, OR OTHERWISE WITH RESPECT TO THE INFORMATION FOR THE PRODUCT, AND EXPRESSLY DISCLAIMS ALL IMPLIED WARRANTIES OF NONINFRINGEMENT, MERCHANTABILITY, AND FITNESS FOR A PARTICULAR PURPOSE. Notwithstanding any damages that customer might incur for any reason whatsoever, NVIDIA's aggregate and cumulative liability towards customer for the product described in this guide shall be limited in accordance with the NVIDIA terms and conditions of sale for the product.
THE NVIDIA PRODUCT DESCRIBED IN THIS GUIDE IS NOT FAULT TOLERANT AND IS NOT DESIGNED, MANUFACTURED OR INTENDED FOR USE IN CONNECTION WITH THE DESIGN, CONSTRUCTION, MAINTENANCE, AND/OR OPERATION OF ANY SYSTEM WHERE THE USE OR A FAILURE OF SUCH SYSTEM COULD RESULT IN A SITUATION THAT THREATENS THE SAFETY OF HUMAN LIFE OR SEVERE PHYSICAL HARM OR PROPERTY DAMAGE (INCLUDING, FOR EXAMPLE, USE IN CONNECTION WITH ANY NUCLEAR, AVIONICS, LIFE SUPPORT OR OTHER LIFE CRITICAL APPLICATION). NVIDIA EXPRESSLY DISCLAIMS ANY EXPRESS OR IMPLIED WARRANTY OF FITNESS FOR SUCH HIGH RISK USES. NVIDIA SHALL NOT BE LIABLE TO CUSTOMER OR ANY THIRD PARTY, IN WHOLE OR IN PART, FOR ANY CLAIMS OR DAMAGES ARISING FROM SUCH HIGH RISK USES.
NVIDIA makes no representation or warranty that the product described in this guide will be suitable for any specified use without further testing or modification. Testing of all parameters of each product is not necessarily performed by NVIDIA. It is customer's sole responsibility to ensure the product is suitable and fit for the application planned by customer and to do the necessary testing for the application in order to avoid a default of the application or the product. Weaknesses in customer's product designs may affect the quality and reliability of the NVIDIA product and may result in additional or different conditions and/or requirements beyond those contained in this guide. NVIDIA does not accept any liability related to any default, damage, costs or problem which may be based on or attributable to: (i) the use of the NVIDIA product in any manner that is contrary to this guide, or (ii) customer product designs.
Other than the right for customer to use the information in this guide with the product, no other license, either expressed or implied, is hereby granted by NVIDIA under this guide. Reproduction of information in this guide is permissible only if reproduction is approved by NVIDIA in writing, is reproduced without alteration, and is accompanied by all associated conditions, limitations, and notices.
Trademarks
NVIDIA, the NVIDIA logo, and cuBLAS, CUDA, CUDA-GDB, CUDA-MEMCHECK, cuDNN, cuFFT, cuSPARSE, DIGITS, DGX, DGX-1, DGX Station, NVIDIA DRIVE, NVIDIA DRIVE AGX, NVIDIA DRIVE Software, NVIDIA DRIVE OS, NVIDIA Developer Zone (aka "DevZone"), GRID, Jetson, NVIDIA Jetson Nano, NVIDIA Jetson AGX Xavier, NVIDIA Jetson TX2, NVIDIA Jetson TX2i, NVIDIA Jetson TX1, NVIDIA Jetson TK1, Kepler, NGX, NVIDIA GPU Cloud, Maxwell, Multimedia API, NCCL, NVIDIA Nsight Compute, NVIDIA Nsight Eclipse Edition, NVIDIA Nsight Graphics, NVIDIA Nsight Systems, NVLink, nvprof, Pascal, NVIDIA SDK Manager, Tegra, TensorRT, Tesla, Visual Profiler, VisionWorks and Volta are trademarks and/or registered trademarks of NVIDIA Corporation in the United States and other countries. Other company and product names may be trademarks of the respective companies with which they are associated.
---