Viewer Reference
User Interface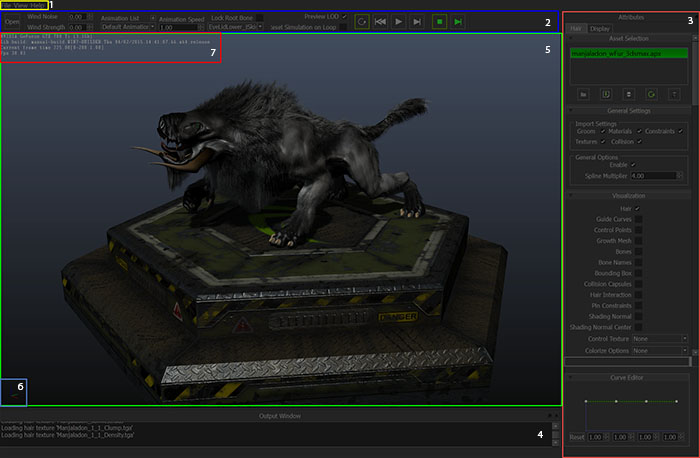 Layout
1: Menu bar
2: Toolbar The Toolbar has animation controls and other controls that are commonly used for iterating on a project scene wide.
3: Attributes Panel The Attributes Panel contains everything that is settable in the scene on a per object level. It is divided into a Hair tab for hair specific attributes and visualizers, and a Display tab for scene visualizers, toggles, and display mesh management. The Attributes Panel is dockable.
4: Output Window The Output Window is dockable.
5: Viewport
6: Axis Indicator Indicates the world axis of the scene
7: Heads Up Display The Heads Up Display(HUD) contains many different statistics that are essential in tuning hair.
Curve Editor
In addition to texture icons, some options will have a curve editor icon.

Edit Curve Opens the Curve Editor at the bottom of the Attributes Panel.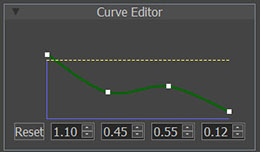 Adjusts the multiplier for the hair from the root(left) to the tip(right). The position along the horizontal access cannot be changed.
Hair Tab
The Hair tab contains all of the attributes, visualizers, and file management to iterate quickly on hair assets.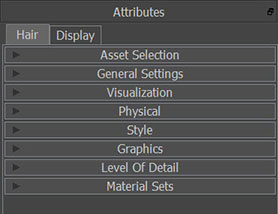 If an asterisk(*) appears next to the title of a field, that field is no longer set to its default value or state.
Values typically range from 0 to 1. This helps provide predictable results. There are a few exceptions, including mass, inertia limit, density, clumping roundness, shininess, glint values, LOD values, shadow attenuation, and wave frequency. These larger ranges may aid in precision or in some cases, such as wave frequency, it just allows for a larger input where a limit of 1 is too restricting.
Display Tab
The Display tab contains options for Scene settings, Lights, Display Mesh visibility, and Display Mesh materials. All settings made on this tab are saved with the HairWorks project file.
Some options, such as Handedness, should be set before the scene is loaded for proper asset conversion.
Keyboard Shortcuts
General
Ctrl + o: Open project file
Ctrl + s: Saves project file
Ctrl + x: Toggles presentation mode on/off
Space Bar: Toggles play animation on/off
Ctrl + Left Mouse: Rotate active Light
Shift + Left Mouse: Rotate wind direction
Ctrl + space: Undo/Redo of last UI action
Maya Navigation
Alt + Left Mouse: Rotate
Alt + Middle Mouse: Translate
Alt + Right Mouse: Zoom
3dsMax Navigation
Alt + Middle Mouse: Rotate
Middle Mouse: Translate
Middle Mouse Scroll Wheel: Zoom
File Types
FBX

FBX is used to transfer the skinned character and any other accent display meshes to be used in HairWorks Viewer.

Hair Files

APX or APB files that are used to transfer HairWorks assets between software packages.
They contain all the attribute settings, the growth mesh and its skinning data, guide hairs, and even texture name references.

Texture Formats

The viewer currently supports various popular image formats such as .dds, .tga, .png, .bmp, and .jpg

Project File

The viewer can save and load .furproj files that contain reference to an fbx file and multiple .apx/.apb files, as well as global settings such as camera, light, display, and animation options etc. This file is only used by the viewer.