NVIDIA Nsight Visual Studio Edition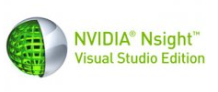 NVIDIA® Nsight™ Application Development Environment for Heterogeneous Platforms, Visual Studio Edition brings GPU Computing into Microsoft Visual Studio. Build, Debug, Profile and Trace both compute and graphics applications using CUDA C/C++, OpenCL, DirectCompute, Direct3D, and OpenGL.
NVIDIA® Nsight™ Visual Studio Edition tools extend the debugging and performance analysis capabilities of Visual Studio to support GPU computing. NVIDIA Nsight is useful in several different application areas, including:
Game development,
High-performance computing and supercomputing, and
Workstation and content creation software.
To see the latest documentation on NVIDIA Nsight, click here.
Available documentation
---
NVIDIA GameWorks Documentation Rev. 1.0.150630 ©2015. NVIDIA Corporation. All Rights Reserved.