Gst-nvmultiurisrcbin (Alpha)¶
Note

The DeepStream 6.2 introduces nvmultiurisrcbin with REST API support for dynamic sensor add/remove capability. This is an Alpha feature.
This bin integrates three major DeepStream components viz. nvds_rest_server, nvurisrcbin, and nvstreammux (Gst-nvstreammux New / Gst-nvstreammux) into a single GstBin. For more details on nvurisrcbin, please run gst-inspect-1.0 nvurisrcbin on a machine/docker container with DeepStream installed.
The bin allows users to create simple gstreamer pipelines for AI multimedia analytics. Users can add or remove sensors over REST API calls made to a HTTP endpoint. A sensor is defined as a streaming entity with a valid unique Sensor ID, and URI.
The below High Level Overview diagram and table illustrate how nvmultiurisrcbin integrates nvds_rest_server, nvurisrcbin, and nvstreammux.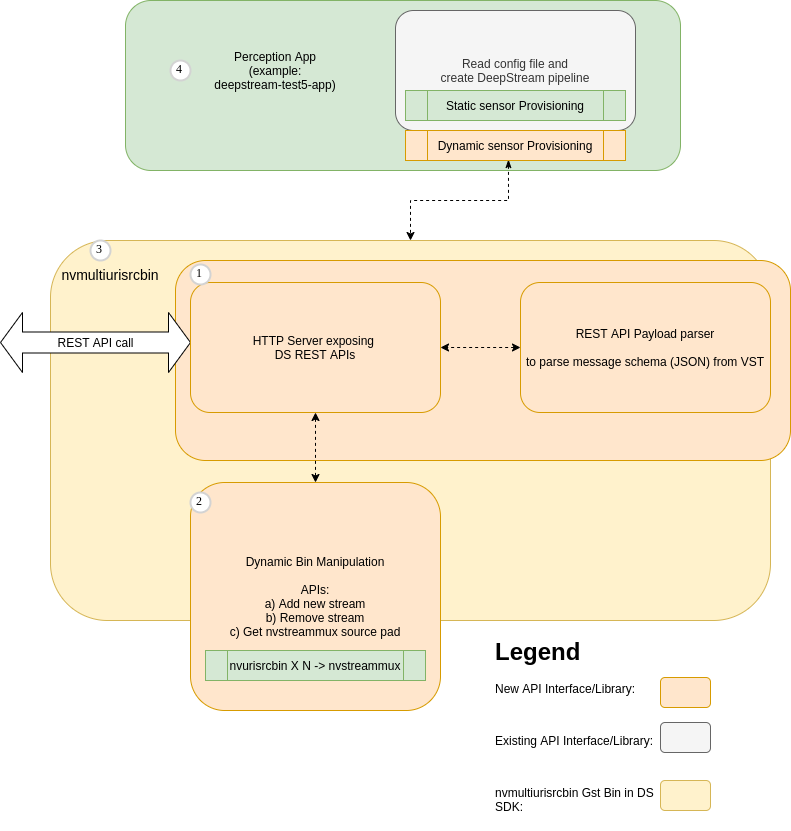 ¶

| Component Name | Source path in DeepStreamSDK Package for more info |
| --- | --- |
| REST API Server; nvds_rest_server | /opt/nvidia/deepstream/deepstream/sources/libs/nvds_rest_server/ |
| Bin Manipulation API Library | /opt/nvidia/deepstream/deepstream/sources/libs/gstnvdscustomhelper/ |
| nvmultiurisrcbin | /opt/nvidia/deepstream/deepstream/sources/gst-plugins/gst-nvmultiurisrcbin/ |
| deepstream-test5-app Demonstrating usage of nvmultiurisrcbin with nvmsgconv and nvmsgbroker | /opt/nvidia/deepstream/deepstream/sources/apps/sample_apps/deepstream-test5/ |
| nvurisrcbin | Source not available. For more info please run gst-inspect-1.0 nvurisrcbin on a machine/docker container with DeepStream installed. |
| nvstreammux | Source not available. For more info please run gst-inspect-1.0 nvstreammux OR for new nvstreammux USE_NEW_NVSTREAMMUX=yes gst-inspect-1.0 nvstreammux |