Viewer Reference
User Interface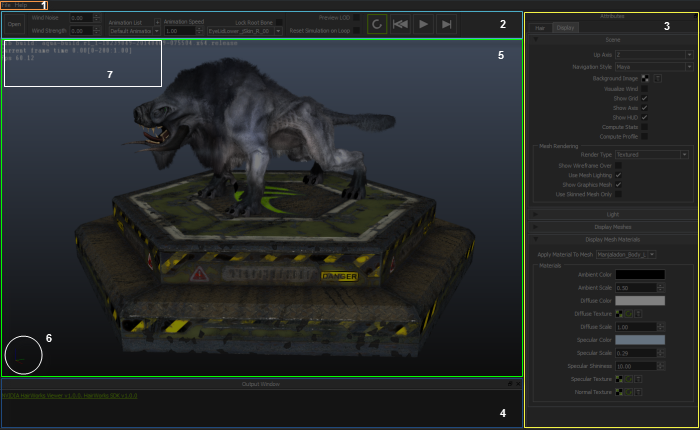 Layout
1: Menu bar
2: Toolbar The Toolbar has animation controls and other controls that are commonly used for iterating on a project scene wide.
3: Attributes Panel The Attributes Panel contains everything that is settable in the scene on a per object level. It is divided into a Hair tab for Hair specific attributes and visualizers, and a Display tab for Scene visualizers, toggles, and display mesh management. The Attributes Panel is dockable.
4: Output Window The Output Window is dockable.
5: Viewport
6: Axis Indicator Indicates the world axis of the scene
7: Heads Up Display The heads Up Display(HUD) contains many different statistics that are essential in tuning Hair.
Hair Tab
The Hair tab contains all of the attributes, visualizers, and file management to iterate quickly on hair assets.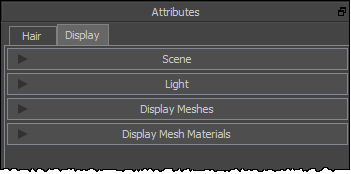 Display Tab
The Display tab contains things such as Scene settings, Lights, Display Mesh visibility, and Display Mesh materials. All settings made on this tab asre saved with the HairWorks project file.
File Types
FBX

FBX is used to transfer the skinned character and any other accent display meshes to be used in HairWorks Viewer.

Hair Files

APX or APB files that are used to transfer HairWorks assets between software packages.
They contain all the attribute settings, the growth mesh and its skinning data, guide hairs, and even texture name references.

Texture Formats

The viewer currently supports various popular image formats such as .dds, .tga, .png, .bmp, and .jpg

Project File

The viewer can save and load .furproj file that contains reference to a fbx file and multiple .apx/.apb files as well as global settings such as camera, light, display and animation options. etc. This file is only used by the viewer.