Hair Tab
The Hair tab contains all of the attributes, visualizers, and file management to iterate quickly on hair assets.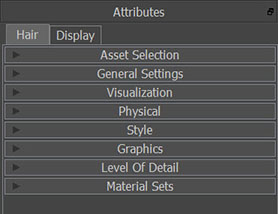 If an asterisk(*) appears next to the title of a field, that field is no longer set to its default value or state.
Values typically range from 0 to 1. This helps provide predictable results. There are a few exceptions, including mass, inertia limit, density, clumping roundness, shininess, glint values, LOD values, shadow attenuation, and wave frequency. These larger ranges may aid in precision or in some cases, such as wave frequency, it just allows for a larger input where a limit of 1 is too restricting.