PxGeometry Class Reference
[Geomutils]
A geometry object.
More...
#include <PxGeometry.h>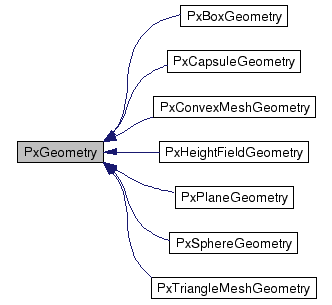 [legend]
---
Detailed Description
A geometry object.
A geometry object defines the characteristics of a spatial object, but without any information about its placement in the world.
Note:

This is an abstract class. You cannot create instances directly. Create an instance of one of the derived classes instead.
---
Constructor & Destructor Documentation
| | | | | | |
| --- | --- | --- | --- | --- | --- |
| PX_CUDA_CALLABLE PX_FORCE_INLINE PxGeometry::PxGeometry | ( | PxGeometryType::Enum | type | ) | [inline, protected] |
---
Member Function Documentation
---
Member Data Documentation
---
The documentation for this class was generated from the following file: