Overview
The Pyramidal Lucas-Kanade (LK) Optical Flow algorithm estimates the 2D translation of sparse feature points from a previous frame to the next. Image pyramids are used to improve the performance and robustness of tracking over larger translations. For more information, see [1] and [2].
Inputs are previous image pyramid, the next image pyramid, and the feature points on the previous image.
Outputs are the feature points on the next image and the tracking status of each feature point.
Frame #10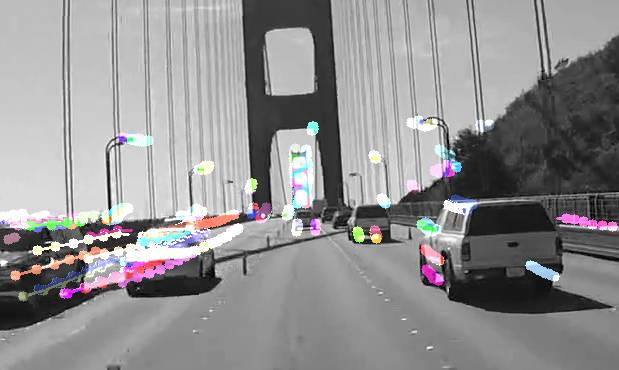 Implementation
Each feature point defines the their location in the image with x, y coordinates. These points are then tracked in the next image. The tracking status will inform whether the feature point is being tracked successfully or not.
Usage
Initialization phase

Include the header that defines the needed functions and structures.

Declares functions that handle gaussian pyramids.

Declares functions that implement the Harris Corner Detector algorithm.

Declares functions that implement the Pyramidal LK Optical Flow algorithm.

Create the stream where the algorithm will be submitted for execution.

struct VPIStreamImpl * VPIStream

A handle to a stream.

VPIStatus vpiStreamCreate(uint32_t flags, VPIStream *stream)

Create a stream instance.

Fetch previous image

@ VPI_IMAGE_FORMAT_U8

Single plane with one 8-bit unsigned integer channel.

struct VPIImageImpl * VPIImage

A handle to an image.

Define the previous pyramid

struct VPIPyramidImpl * VPIPyramid

A handle to an image pyramid.

VPIStatus vpiPyramidCreate(int32_t width, int32_t height, VPIImageFormat fmt, int32_t numLevels, float scale, uint32_t flags, VPIPyramid *pyr)

Create an empty image pyramid instance with the specified flags.

Define the current pyramid
Define the feature points in the previous image

VPIStatus vpiArrayCreate(int32_t capacity, VPIArrayType type, uint32_t flags, VPIArray *array)

Create an empty array instance.

struct VPIArrayImpl * VPIArray

A handle to an array.

@ VPI_ARRAY_TYPE_KEYPOINT

VPIKeypoint element.

Create feature points for next image
Create tracking status array for the feature point

@ VPI_ARRAY_TYPE_U8

unsigned 8-bit.

Fill in previous feature points

VPI_CHECK_STATUS(

SortKeypoints(arrPrevPts, scores, MAX_KEYPOINTS);

Create the payload that will contain all temporary buffers needed for processing.

VPIStatus vpiCreateOpticalFlowPyrLK(uint32_t backends, int32_t width, int32_t height, VPIImageFormat fmt, int32_t levels, float scale, VPIPayload *payload)

Creates payload for vpiSubmitOpticalFlowPyrLK.

Define the configuration parameters that guide the LK tracking process.

Generate image pyramid for previous image

Processing phase

Cleanup phase

Free resources held by the stream, the payload, and the input and output arrays.

void vpiArrayDestroy(VPIArray array)

Destroy an array instance.

void vpiPayloadDestroy(VPIPayload payload)

Deallocates the payload object and all associated resources.

void vpiPyramidDestroy(VPIPyramid pyr)

Destroy an image pyramid instance as well as all resources it owns.

void vpiStreamDestroy(VPIStream stream)

Destroy a stream instance and deallocate all HW resources.
For more information, see Pyramidal LK Optical Flow in the "API Reference" section of VPI - Vision Programming Interface.
Limitations and Constraints
Constraints for specific backends supersede the ones specified for all backends.
All Backends
Previous and next image pyramid must have the same dimensions and type
Accepted input types:
Input and output feature point arrays must have type VPI_ARRAY_TYPE_KEYPOINT.
Tracking status array must have type VPI_ARRAY_TYPE_U8
Constraint: 0 < numIterations <= 32
Constraint: 6 <= windowDimension <= 32
PVA
VIC
References
B. D. Lucas and T. Kanade (1981), "An iterative image registration technique with an application to stereo vision."
Proceedings of Imaging Understanding Workshop, pages 121–130