ASR Customization Best Practices
ASR Customization Best Practices#
The Riva Quick Start scripts allow you to easily deploy preconfigured ASR pipelines that are very accurate for most applications. The Pipeline Configuration section provides the riva-build commands used to configure the ASR pipelines that are in the Quick Start scripts. You can also easily customize the Riva ASR pipeline in order to meet your specific needs.
This section provides best practices when customizing the Riva ASR pipeline for recognition accuracy. Customization techniques are helpful when out-of-the-box Riva models fall short dealing with challenging scenarios not seen in the training data, such as recognizing narrow domain terminologies, new accents, or noisy environments.
The customization steps and components include:
Feature extractor - The audio signal first passes through a feature extractor which segments it into blocks (say, of 80 ms each). Each block is then converted from the temporal domain to the frequency domain, in the form of a spectrogram or mel spectrogram.

Acoustic model - The spectrogram data is then fed into an acoustic model, which outputs probabilities over characters (or more generally, text tokens) at each block, meaning time step. Some acoustic models supported by Riva are QuartzNet, Citrinet, Jasper, and Conformer.

Decoder and Language model - A decoder converts this matrix of probabilities into a sequence of characters. A language model can give a score indicating the likelihood of this text appearing in its training corpus. An advanced decoder like Flashlight can inspect multiple text sequences (hypotheses) while combining the acoustic model score and the language model score.

Punctuation and Capitalization - The text produced by the decoder comes without punctuation and capitalization, which is the job of the Punctuation and Capitalization model.

Inverse Text Normalization - Finally, Inverse Text Normalization (ITN) rules are applied to transform the text in verbal format into a desired written format.
The following flow diagram shows the Riva speech recognition pipeline along with the possible customizations.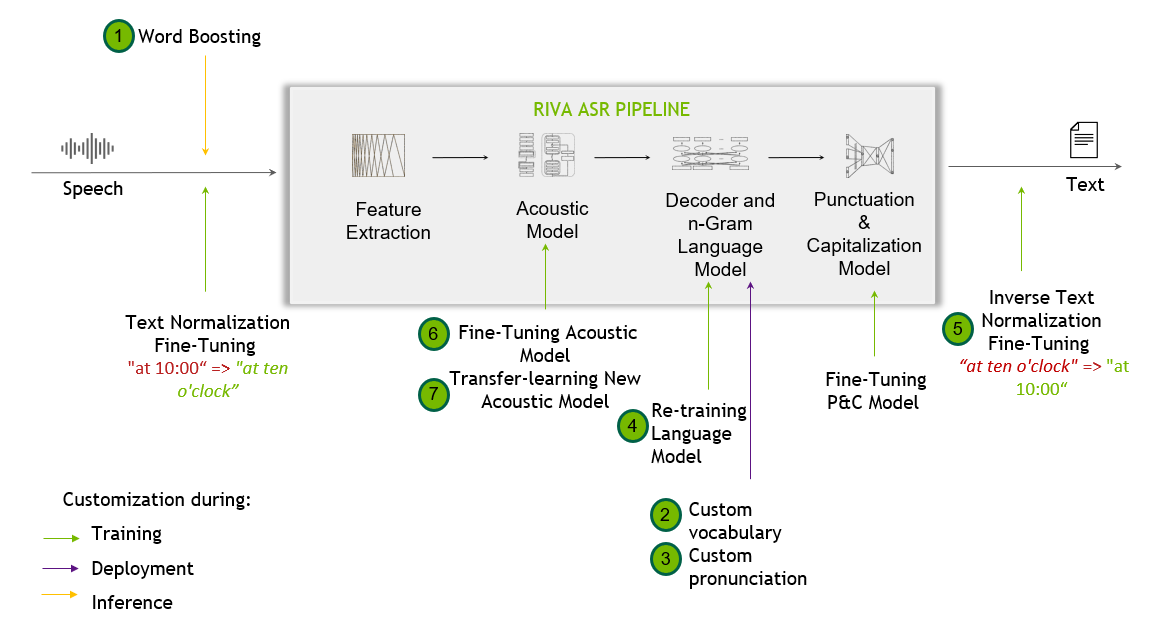 In the following table, the corresponding customizations are listed in increasing order of difficulty and efforts:
| Techniques | Difficulty | What it Does | When to Use | How to Use |
| --- | --- | --- | --- | --- |
| Word boosting | Quick and easy | Extends the vocabulary while increasing the chance of recognition for a provided list of keywords. This strategy enables you to easily improve recognition of specific words at request time. | When certain words or phrases are important in a particular context. For example, attendee names in a meeting. | |
| Custom vocabulary | Easy | Extends the default vocabulary to cover new words of interest. | When the default model vocabulary does not sufficiently cover the domain of interest. | |
| Custom pronunciation (Lexicon mapping) | Easy | Explicitly guides the decoder to map pronunciations (that is, token sequences) to specific words. The lexicon decorder emits words that are present in the decoder lexicon. It is possible to modify the lexicon used by the decoder to improve recognition. | When a word can have one or more possible pronunciations. | |
| Retrain language model | Moderate | Trains a new language model for the application domain to improve the recognition of domain specific terms. The Riva ASR pipeline supports the use of n-gram language models. Using a language model that is tailored to your use case can greatly help in improving the accuracy of transcripts. | When domain text data is available. | |
| Create new inverse text normalization rules | Moderately hard | Maps the sequence of transcribed spoken words into a desired written format. | When a particular written format is required. | |
| Fine tune an existing acoustic model | Moderately hard | Fine-tunes an existing acoustic model using a small amount of domain data to better suit the domain. | When transcribed domain audio data (10h-100h) is available, other easier approaches fall short. | |
| Train a new acoustic model | Hard | Trains a brand new acoustic model from scratch or with cross-language transfer learning, using thousands of hours of audio data. | Only recommended when adapting Riva to a new language or dialect. | |
Choosing a Customization Technique#
To decide which techniques to use and when, consult the following table. As a general practice, you should attempt the simpler techniques first, observe the impacts, then move to more complex techniques.
Goals/Issues

Solutions

To improve Riva recognition of specific words on special occasions, such as uncommon people's names in a meeting recording.

Word boosting

To improve Riva recognition of specific terms in recurring contexts, such as product names in a potential application for a particular business.

Word boosting

Custom vocabulary

Lexicon mapping

Domain specific language model

Fine-tune acoustic model

To improve Riva recognition of general words in challenging acoustic environments such as noise, data quality (for example, phone line), or due to a new dialect.

Fine-tune acoustic model with the relevant data and data augmentation strategy, for example, noise-augmented training data to cope with noisy environments.

Riva correctly recognizes the words, but the final text output format does not meet specification, for example, "e x three 0 five q" instead of "EX305Q".

Custom inverse text normalization
Model Adaptation#
Model adaptation is a group of techniques that help a pre-trained model adapt to new application scenarios in a quick and easy manner (without fine-tuning or retraining). Some high-level recommendations when using these techniques include:
Word boosting can be used with any word. If the word is not in the lexicon of the decoder, it is automatically tokenized and added to the lexicon for that particular request (other simultaneous requests are independent and will not recognize those boosted words).

Manually coming up with a pronunciation spelling for words not in the lexicon is a workaround and is not needed in many cases. This is not possible with the word boosting API and can only be done by manually modifying the deployed lexicon file.

Modifying the lexicon or language model should be the preferred method in cases where there are words known that should always be recognized (for example, brands, product names, and so on).

Word boosting API is intended for dynamic emphasis of words that are only known at request time (for example, a users' address book, attendees of the meeting being transcribed, and so on).