Riva Contact#
This Riva Contact Center Video Conference sample application is a web-based demonstration for contact center applications, combining peer-to-peer video chat with streaming automatic speech recognition (ASR) and natural language processing (NLP). It is a lightweight Node.js application, backed by NVIDIA Riva Speech services.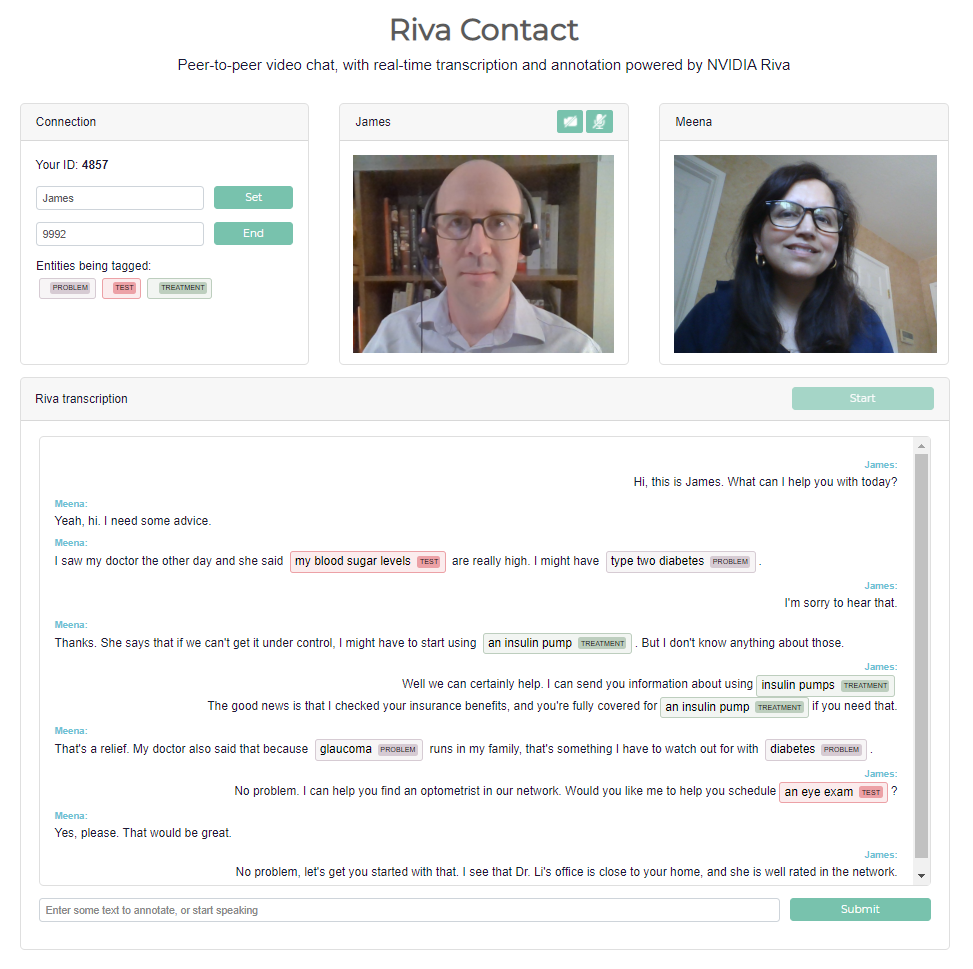 Users can chat using a direct, peer-to-peer WebRTC-based video connection. In the background, each user's web client sends a separate audio stream to the Riva Contact server. The server makes a streaming gRPC call to hosted Riva AI Services, which return an ongoing stream of ASR transcripts. This stream of transcripts is handed back to the speaker's web client, who can see how the in-progress results can change as they speak.
When ASR results are marked as "final" (based on the ASR service's end-of-sentence detection settings, typically after short pauses in speech), the server hands the resulting transcript over to the NLP service for named entity recognition (NER). If Riva is configured to use a general-domain NER model, the service recognizes entities like the name of a person, location, or organization. Riva can also be deployed with an NER model fine-tuned by NeMo for a specific domain. In this case, a model tuned on biomedical or clinical language might recognize entities such as problem, test, or treatment.
After the NER results are complete, the Riva Contact server returns the final transcript, along with its NER annotation, back to the web client, which exchanges transcripts with the other user for an ongoing, annotated transcript of the conversation.
This sample application offers a launching pad for your own development. For example, there are many possible applications which use the transcripts and tagged entities for downstream analytics and visualization.